Cogniform Disorder:

"The Neural Basis of Relational Memory Deficits in Schizophrenia"
Dost Ongür, MD, PhD; Thomas J. Cullen, MD, PhD; Daniel H. Wolf, MD, PhD; Michael Rohan, SM; Paul Barreira, MD; Martin Zalesak, MSc; Stephan Heckers, MD
Arch Gen Psychiatry. 2006; 63:356-365.

Powered by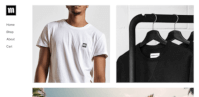 Create your own unique website with customizable templates.